Celebrating More Birthdays at BlogHer with the American Cancer Society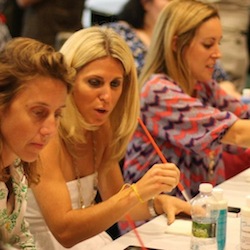 This past August, Women Online had the pleasure of helping organize an event at the American Cancer Society's New York City Hope Lodge. ACS has Hope Lodges around the country that provide a free place for cancer patients and their caregivers to stay while they receive treatment. Our event, in advance of BlogHer, invited bloggers to come and celebrate the life of Susan Niebur who passed away in February after a long fight with breast cancer, which she documented on her blog. Fellow survivor and friend to Susan, Darryle Pollack provided us immeasurable help in putting together the event and leading a tile painting workshop. We encourage you to read Darryle's beautiful post, reflecting on her cancer journey and documenting our Hope Lodge event:
When I had breast cancer, I never would have believed a day would come when I'd say cancer brought me any rewards.  But it has.

One of those was knowing Susan Niebur.
Photo by Christine Koh.