It's #GivingTuesday- Join in!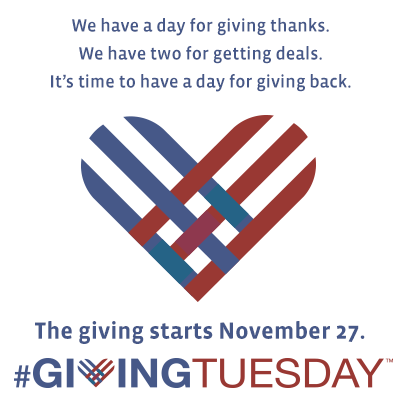 November 27 is the first ever #GivingTuesday, a campaign to create a national day of giving at the start of the annual holiday season. We've been so honored to work on  #GivingTuesday with the founding team from the 92St Y and the United Nations Foundation. So many of you have written about the amazing things you're doing to celebrate this day, and as I wrote in the Harvard Business Review, the experience has been exhilarating because frankly, it brings me back to the early days of my career at iVillage.com, when the team was willing to experiment, learn from our audience, and craft accordingly. #GivingTuesday is driven by these three principles, as reported in TwitChange.com:
It's not just about giving more; it's about giving smarter. #GivingTuesday wants to encourage people to give learn how to give smart and how to talk about philanthropy.
Everyone can be a philanthropist. From the small issues that affect individual communities, to global issues, anyone can give, not just with their wallets, but also with their voices, through volunteering and talking about service.
As a country, we have a proud tradition of giving. We are one of the most generous countries in the world, giving globally, not just in our own backyards. We view the entire world as a place where we can have a positive impact.
Please join in, any way you can. Just visit givingtuesday.org.